University - Your MSc in Clinical Science
You will be taught and assessed for your MSc in Clinical Science at the university responsible for delivering the MSc for your particular specialty. Your Masters programme is made up of 180 academic learning credits, 70 of which are devoted to a research project. The remaining 110 credits comprise your core, rotational and specialty modules.
Workplace - Your work-based learning
Your work-based learning will be completed through your employer (sometimes as part of a consortium of employers and training providers) where you will follow a training plan that you will develop and agree with your training officer. Additionally, as an employee of the NHS, you will also be required to complete mandatory training in essential areas such as equality and diversity, data protection and health and safety.
The first year
In your first year you will complete:
A work-based induction, work-based mandatory training, work-based core modules and a series of rotational work-based placements.
A set of broad introductory MSc modules at your university, covering topics across your healthcare science theme – either life sciences, physiological sciences, physical sciences or bioinformatics.
You will have a set of MSc examinations in the May-June period of your first year and you will also need to start thinking about ideas for your research project.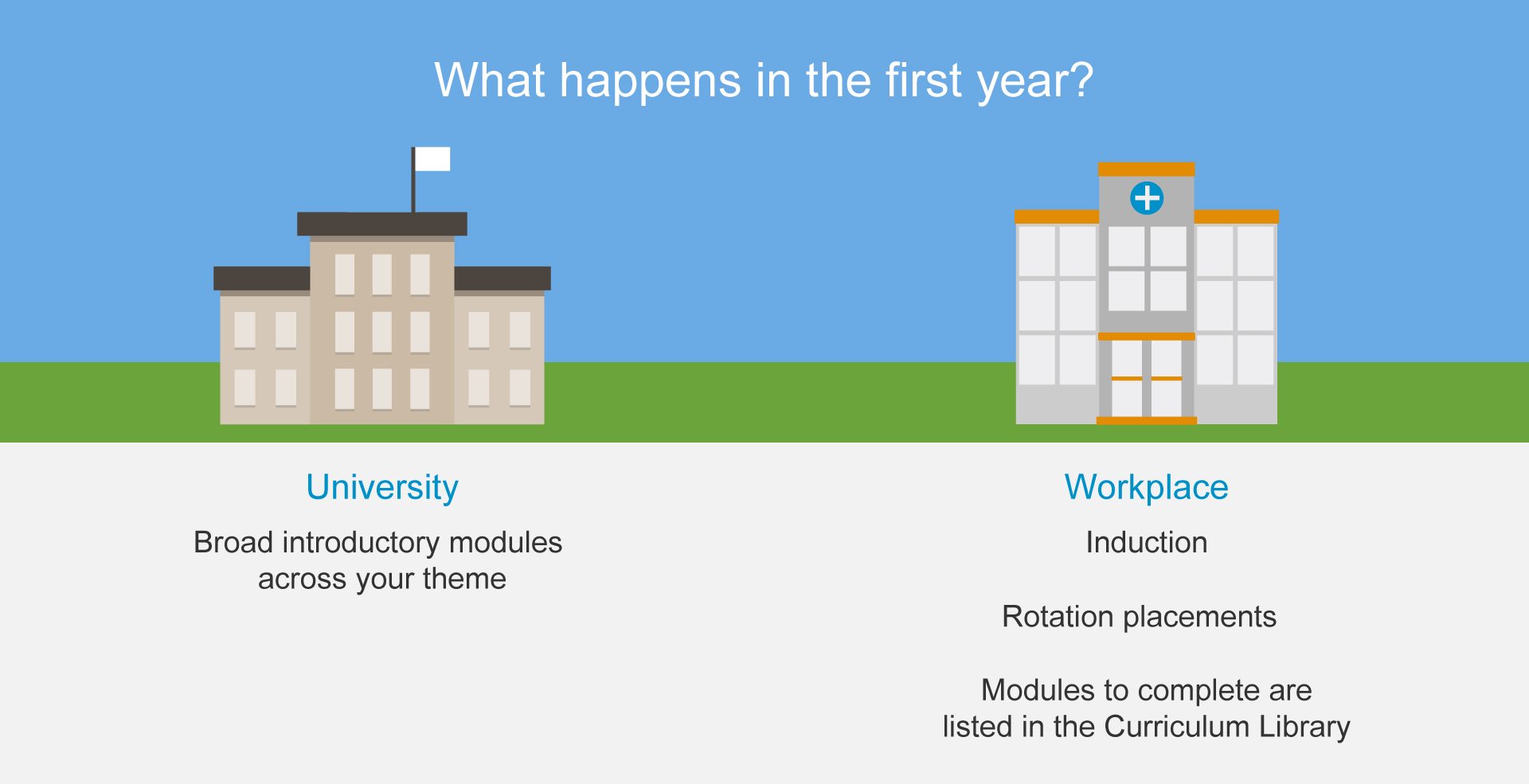 The second year
In your second year the focus of your learning and training moves more squarely to your chosen specialty. Therefore:
At your university you will study a series of specialty modules; you will you will start your research project and you will sit a set of MSc examinations in the May – June period.
In the workplace your training will focus on your chosen specialty and the work-based requirements of your specialty modules.
Additionally, mid-way through your second year you will be required to engage with and receive a successful outcome from your Mid-term Review of Progression (MRP) which is conducted by the National School of Healthcare Science.
The third year
At your university, you will finish your specialty modules and your research project and you will complete your final MSc examinations in the May – June period.
In the workplace, you will complete the work-based requirements of your specialty modules and you will negotiate a work-based elective placement.
Your third year is the year of your exit assessment, which will take place in July. In previous years the exit assessment has been what is known as the Objective Structured Final Assessment (OSFA), a series of scenario-based 'stations'. An alternative to the OSFA took place in 2020 on account of the Coronavirus (COVID-19) pandemic. The National School is currently reviewing its plans for future exit assessments.
By the September of your third year you will be required to complete 100% of the competencies and assessments that are required across your work-based modules. Your evidence for these assessments is submitted and assessed inside your e-portfolio.