About the STP curriculum
Your programme combines core, rotation and specialist modules. Full details of the curriculum for each STP specialty are contained in the National School's online Curriculum Library at: https://curriculum.nshcs.org.uk/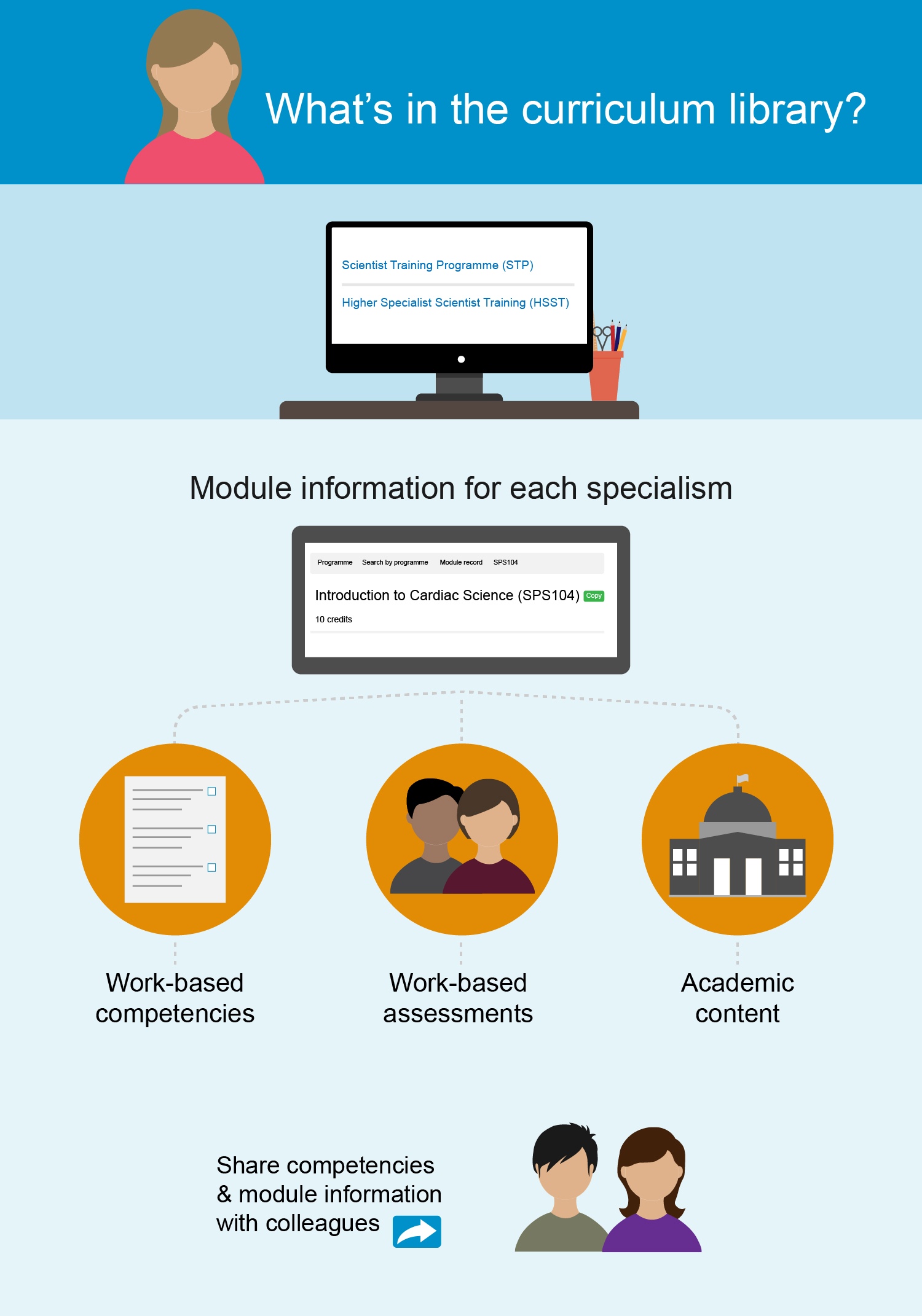 In every specialty, the core modules are compulsory. In many specialties all the rotation and specialist modules are fixed and compulsory. In some there are sets of modules that can be chosen from. Where this is the case, you must agree with your Training Officer which modules you will be required to follow in order to meet the specific workforce need for your post.
Most of your modules contain work-based competencies and assessments that you are required to demonstrate and undertake and have signed off by an appropriate assessor in your workplace. In order to complete a module, you must complete all the competencies contained in the module plus the required combination of work-based assessments specified for the module.
Core modules
The core modules provide you with the essential skills and knowledge you'll need to work as a Clinical Scientist, whatever your specialty. There are four core modules to complete:
Introduction to Healthcare Science, Professional Practice and Clinical Leadership
Through this module you will understand more about your impact on patients and their care, about developments in healthcare science, as well as the standards you must work to and how you can embody these in your practice as a Healthcare Science professional.
Elective Module
This is an opportunity for you to spend four to six weeks doing something which will expand your knowledge and broaden your experience as a specialist in your field.
Research Methods and Research Project
As part of your programme you will have the opportunity to contribute to research in your specialist field. These modules are conducted via your university.
Rotation modules
You will complete four rotations. One of the rotations will be in the specialism that you will pursue in your specialist training. The rotations are designed to provide a breadth of knowledge and skills in different but related areas of a chosen specialism. They may also enable you to gain experience of working in another department or Trust to see how different service providers operate, helping you to understand the whole patient pathway.
Rotations also encourage new learning to be brought back into your own area of practice. They are useful for expanding professional networks outside of your specialism and they can help you develop new skills and different ways of working.
During the rotational training several competencies and assessments will need to be completed to provide evidence that you are making progress and are achieving the relevant learning. It is very important that the work-based assessments for the rotational period are carried out while you are in the rotational department.
Your Training Officer should have a plan for your rotational year at the beginning of the programme. If you do not have one in place, please speak to your training officer. You may be asked to help with contacting the relevant trainers in the rotational departments.
Specialist modules
You will complete your specialist training over a period of approximately 18 months. This will be in a single healthcare science specialism.
During specialist training you may be based in a single department or laboratory or may be required to undertake training in other training environments to ensure you achieve the learning outcomes of the programme. Training departments may develop consortia arrangements to facilitate these links. If the host department is unable to provide all the training required to enable you to complete all the learning outcomes, it will need to arrange training in other training units. The host department will plan the detailed timetable for specialist training for you.