To receive your Certificate of Completion for the Scientist Training Programme (CCSTP), you must have met all of the mandatory completion criteria for the programme. This confirms that you are fit to practise and are therefore eligible to apply to the Academy for Healthcare Science (AHCS) for a Certificate of Equivalence or a Certificate of Attainment, and subsequently to apply to the Health and Care Professions Council (HCPC) for registration as a Clinical Scientist.
Completion criteria
There are 3 key completion requirements for the STP.
1
There are a specified number and type of assessments you must do in order to complete your portfolio successfully. Full details are available in the Curriculum Library. In summary these requirements will include:

All competencies defined within the curriculum for your specialty completed with a satisfactory status.
1 CBD and 1 DOPS or OCE per module completed with a satisfactory status within each of your rotational modules.
20 assessments, 50% of which should be CBDs, completed with a satisfactory status across the specialist training with minimum numbers observed per module for the relevant specialty.
Two Multi-Source Feedback (MSF) assessments – the first at around the 18-month point of their training, and the second at around the 30-month point.

2
Successful completion of the Objective Structured Final Assessment (OSFA)
3
Successful completion of the MSc in Clinical Science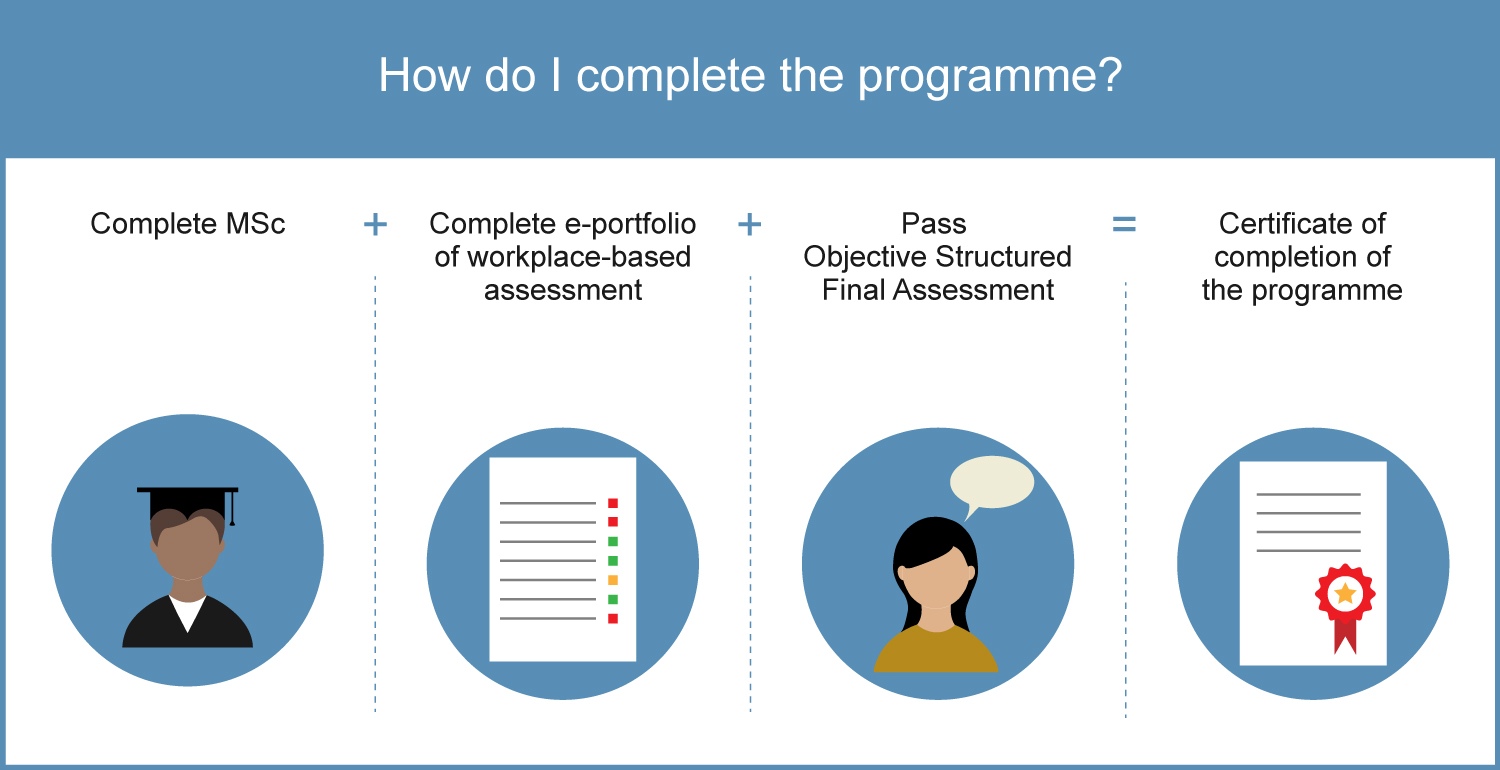 Timescales
Once you have successfully completed the three mandatory requirements of the STP, you will receive confirmation of completion via email. The certificate of completion (STP) will then be sent to the address provided by you as soon as possible; however this may be up to 4 – 6 weeks.
If you have recorded exceptions the certificate of completion (STP) will not be awarded until required completion criteria have been met in full. Timescales may therefore vary significantly for individual trainees and this is why the award of the certificate of completion will be made on an individual basis.
Timescales in relation to the AHCS or HCPC processes should be requested from the relevant organisation as required.
Future completion dates
For trainees completing between 2019-2022 the dates of completion are as indicated below. These dates may be subject to review but it is anticipated that completion will be required on the third Monday of September each year.
| | | |
| --- | --- | --- |
| 2020 | 2021 | 2022 |
| Deadline – 5.00pm | Deadline – 5.00pm | Deadline – 5.00pm |
| Monday 21st September | Monday 20th September | Monday 19th September |
If you have any queries relating to the certificate of completion (STP) please email us at nshcs@hee.nhs.uk
Exceptional extenuating circumstances
If you feel that personal, medical, or other problems outside your control have negatively affected, or will affect, your ability to complete the required training activities within the timescales agreed for the programme, you can apply for an extension of time by submitting an exceptional extenuating circumstances application form.
If you require assistance in completing the application form or require further advice about this process, please contact any of the following sources of advice:
Your Training Officer/lead or Head of Department
National School of Healthcare Science on nshcs@hee.nhs.uk or 0121 695 2311
The form, together with any evidence you wish to be considered, must be submitted a minimum of 5 working days prior to the training management panel being held.
EEC panel dates
| | | |
| --- | --- | --- |
| EEC panel date | Latest submission date | Likely outcome date |
| Wednesday 12th August 2020 | Wednesday 5th August 2020 | Wednesday 19th August 2020 |
| Wednesday 9th September 2020 | Wednesday 2nd September 2020 | Wednesday 16th September 2020 |
| Wednesday 7th October 2020 | Wednesday 30th September 2020 | Wednesday 14th October 2020 |
| Wednesday 4th November 2020 | Wednesday 28th October 2020 | Wednesday 11th November 2020 |
| Wednesday 2nd December 2020 | Wednesday 25th November 2020 | Wednesday 9th December 2020 |