text
What is reflective practice?
Three parts of which combined places you as a Reflective Practitioner and Lifelong Learner.
Reflection
"Reflection is a process which helps you gain insight into your professional practise" (HCPC 2021)
Reflective practice
There are different perceptions of what reflective practice means and how it should be structured, but in essence it is about learning.
"…a process of reviewing an experience of practice in order to describe, analyse, evaluate and so inform learning about practice" (Reid, 1993 p.305)
Synthesised reflection
Analysing your completed evidence.
Synthesise what you have learnt against the 5 domains.
Reflect on gaps in knowledge and practice.
Produce an action plan to inform future practice and development.
text
The emerging reflective practitioner
A reflective practitioner is looking to improve their own practice in order to provide better care; they recognise the importance of lifelong learning.
not backward looking but forward thinking – using experience to improve practice
self-aware
can critically analyse and evaluate
draw conclusions
develop new perspectives or reaffirm practice
text
Model of reflection
There are many models of reflection, but the "What?"; "So What?" and "Now What?" approach, lends itself well to the requirements of the IACC.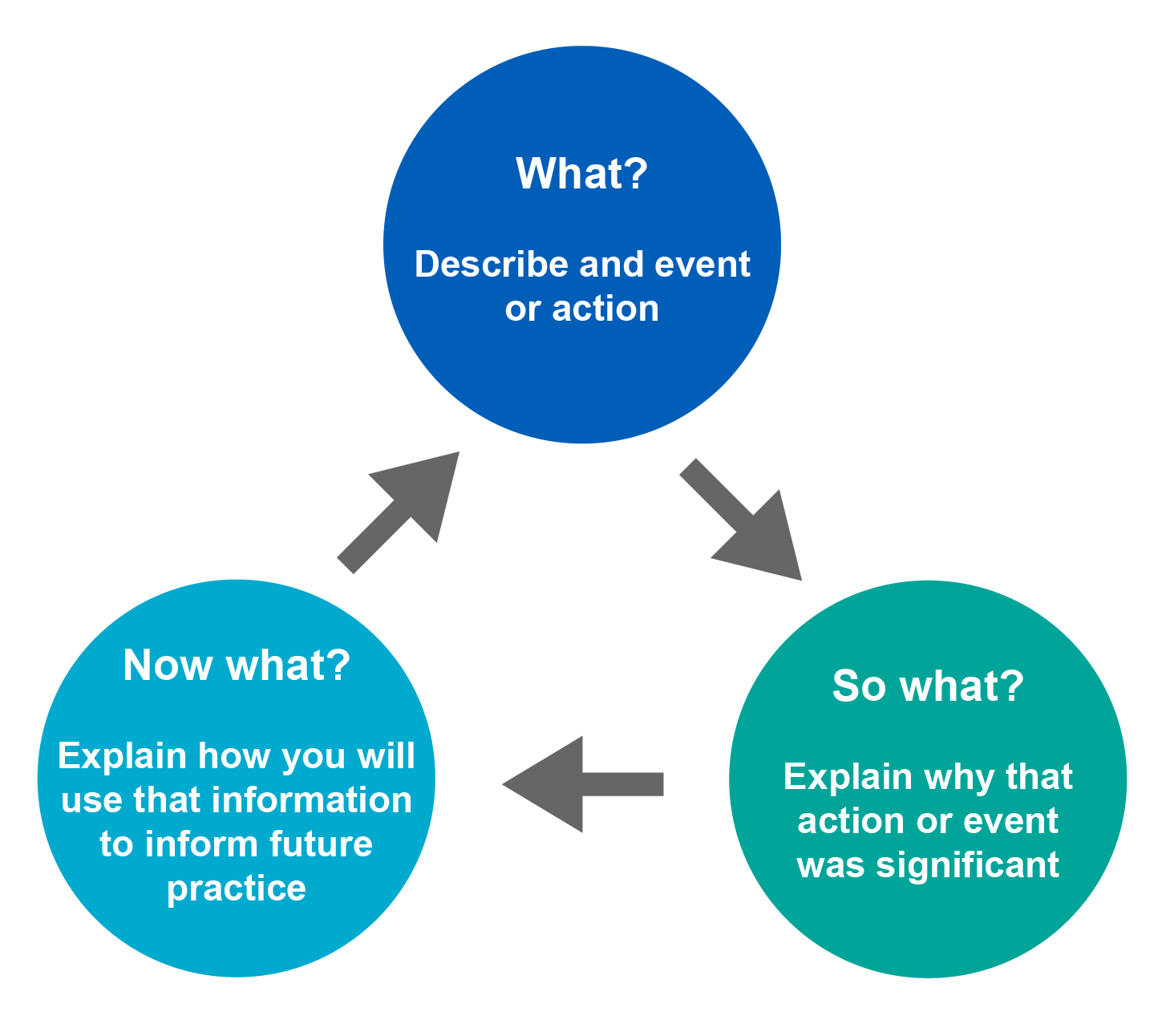 Driscoll Model of Reflection
Driscoll, J. (ed.) (2007) Practicing Clinical Supervision: A Reflective Approach for Healthcare Professionals. Edinburgh: Elsevier.
nhs/details
Content of the graphic 'Driscoll Model of Reflection'

What?

Describe and event or action

So what?

Explain why that action or event was significant

Now what?

Explain how you will use that information to inform future practice
text
Driscoll and the IACC
What?
Description of evidence from the portfolio which demonstrates knowledge for each of the 5 domains.
So What?
Analysis of this evidence:
What does it prove? How do you feel about the evidence and the experiences?
What are the gaps in your knowledge?
Now What?
What are you going to do about the gaps in your knowledge / practice?
Developing your knowledge further
Action plan
text
Synthesised critical reflection
Critical reflection involves a process of thinking which demonstrates your ability to:
explore, question, and analyse your experiences
application of knowledge
use your knowledge to enhance your understanding of these experiences
use your knowledge to shape your future experiences
learn from past experiences, assess options and make decisions in presenting scenarios, and implement changes or routines to ensure future experiences will improve
What?
Descriptive pieces will give an account of scenario in context, it will describe who was involved and their feelings
So What?
Reflective pieces will build on descriptions to analyse and unfold the account further
Now What?
Critical reflective pieces will assess one's own capabilities (knowledge and skills) and further learning needs/ support
text
Writing the IACC - evidence based
Consolidating your learning through:
5 domains of GSP
evidence from your portfolio
Identify yourself as a reflective practitioner by:
recognising current stage of learning and continuing development needs – an action plan is advisable