text
Introduction
This document outlines what you need to do to prepare for your interview, the conditions under which it will be conducted and instructions on how to participate. The guide takes you through the process of accessing your virtual assessment interview that will be held on the Microsoft Teams platform. To illustrate these instructions, we have provided example screenshots.
Please ensure you read this guide fully before you attend for your interview and ensure that you meet all the conditions and requirements to enable you to attend the interview.
text
Invitation to your virtual interview
You will receive an invitation to your IACC virtual interview six weeks before your scheduled interview date. This invitation is sent to the email address you have registered with the School. It is your responsibility to ensure that the email address registered with the School is correct and up to date.
If you have not received your calendar invitation within six weeks of the scheduled interview period, please check your junk mail folder or any other active security filters such as a firewall or anti-virus protection installed on your computer. If you are still unable to find your calendar invitation for your interview please email nshcs.assessment@hee.nhs.uk with 'IACC Interview invitation' in the subject line.
Your invitation will be an MS Outlook invitation that includes the date and time of your interview and a MS Teams link to the interview, as shown in Figure 1. You must not share this link or forward it to anyone else.
Figure 1: Calendar invitation for MS Teams meeting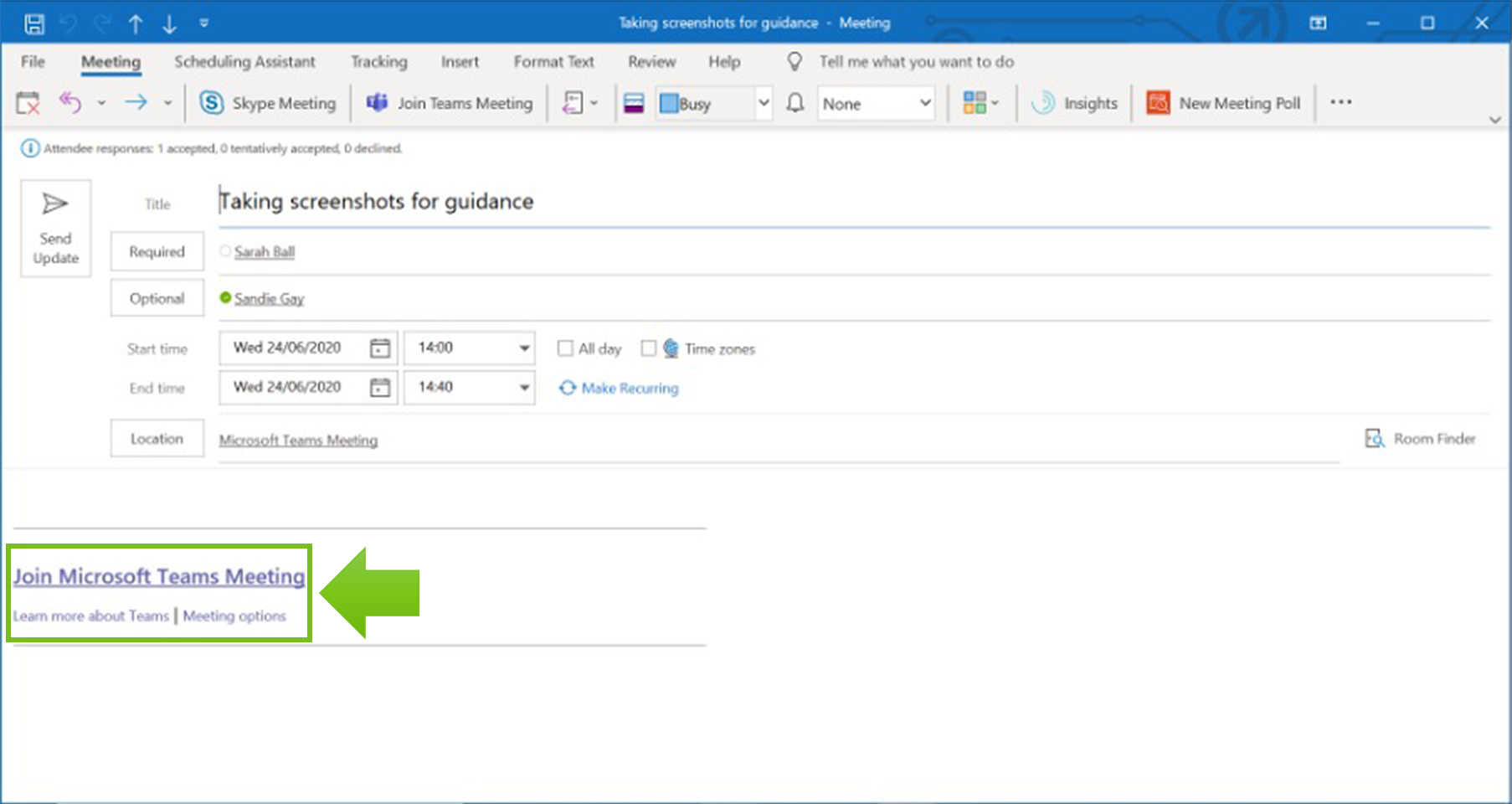 text
Preparation for you interview
Equipment
You will require a video and audio enabled laptop or computer (PC or Mac) capable of running Microsoft Teams via the Desktop App or through a browser (either Google Chrome or Microsoft Edge). You must ensure this computer has functioning speakers, microphone, and webcam. If using a laptop, please ensure that the charging lead is connected, plugged in and switched on to avoid issues arising from a discharged battery. If using a headset or headphones, please ensure these are working and microphone is enabled and working too. Please enable your video and audio settings.
You must have access to a reliable high-speed broadband internet connection. This can be wired or wireless (Wi-Fi), but if connecting wirelessly, you must ensure the signal to your device is strong, fast, and reliable.
Location
You must ensure that you have identified a quiet and private room in which to take your assessment where you will not be interrupted or disturbed for the duration of the assessment. Your location should be Covid safe and allow you to take part in the interview without the need to wear a face mask.
Accessing Microsoft Teams
It is your responsibility to check that you can access the Microsoft Teams platform. We recognise that some Trusts may have limited access or blocks preventing this. We recommend that you liaise with your local IT to ensure you can access this platform well in advance of your scheduled interview.
Technical test
We recommend that you carry out a technical test with the School to check your equipment meets the above requirements during the period before your interview. Technical tests are available up to one week before the interview period. Unfortunately, we cannot offer technical tests during the scheduled interview period or the week before. To arrange a technical test please email nshcs.assessment@hee.nhs.uk a minimum of seven days before you want to schedule the test, with 'IACC Technical Test' in the subject line.
text
Assessment conditions and regulations
Attending the interview
This interview is a required element of your IACC assessment and your attendance is mandatory. If you fail to attend the interview this will result in a fail outcome and will count as one of your three opportunities to take the IACC assessment. You may appeal a fail outcome that is due to an unavoidable and unforeseen absence and you will be required to provide evidence to support your application.
Exam conditions
This interview is a formal professional assessment carried out under exam conditions as outlined below. You are expected to adhere to the ethos of the policies and professional behaviours applicable to the STP including appropriate dress code, late arrival, and misconduct.
You must adhere to the following requirements throughout the interview:
your camera and microphone must be on at all times throughout the assessment
you must be in view and audible to the assessment panel throughout the assessment
you may not access your written narrative or your portfolio during the assessment
you must ensure that all phones and other electronic devices are on silent and stored away from your assessment area
you must ensure your work area is clear of papers and other materials including books, journals, and other reference materials
you must ensure that you are connected to a reliable high-speed broadband internet connection for the duration of the interview
you will be required to use your camera to show round your interview location prior to the interview
Please also be aware of:
the background you display to the assessment panel
your behaviours on camera
Please also ensure you have a water/drink available to hand.
The assessor panel
The assessor panel will normally be made up of three assessors from your specialty. If an assessor is unable to attend on the day of your interview, we will assign a contingency assessor to your panel. In the exceptional circumstance that a contingency assessor is unavailable then, to allow the assessment to continue, we will ask you for your consent to record the assessment. The recording will be shared with a third assessor after the assessment for their judgement and feedback. If you do not consent to the assessment interview being recorded, then unfortunately the assessment cannot continue and will need to be rearranged.
text
Attending the interview
You must log into the MS Teams meeting link on the date and at the time of indicated in your calendar invitation for your assessment (as shown in Figure 1). Please use the link in your MS Outlook calendar invitation to enter the assessment registration room, by clicking the link in the email. Please note this link must only be used on the day and time of your assessment. Please ensure you log in promptly.
Enter your full name, if prompted, to clearly identify yourself to the Assessment Invigilator.
To attend your interview you must:
ensure you login promptly
ensure you are on you own, in a quiet space free from interruptions where you can participate safely without wearing a face mask
ensure you wear appropriate professional attire
ensure your mobile phones/devices are on silent/switched off and not on your person
ensure your space is free from any support materials
ensure that you have a good strength connection to the internet
ensure you keep your camera and audio on at all times
Entering your pre-assessment virtual room
When you join the assessment room via the MS Teams link you will be met by an assessment invigilator who will register your attendance and will:
introduce themselves
require you to provide proof of your identity. Please ensure you come to your assessment with photographic ID, such as a passport, driver's licence photo card or work photo ID badge. If you are unable to prove your identity to the satisfaction of the Invigilator the assessment interview will proceed and will be recorded. If you decide not to participate or refuse permission for the interview to be recorded, then the interview will not proceed. This this will result in a fail outcome and will count as one of your three opportunities to take the IACC assessment. The recording will be kept until such time as your identity is confirmed as the trainee scheduled to take the interview to the satisfaction of the School and you, as the named trainee was the person who took part in the interview.
ask you to pan the camera around the room you can show that you are on your own and that your location is free of support materials and devices
ask you to confirm that you have read this briefing before entering the room
ask you to confirm that you are participating in the assessment by yourself and not accessing help in any way
offer you the opportunity to ask any questions about the technical or administrative arrangements before the assessment starts
Observers
As part of our Quality Assurance process we may observe your interview. The assessment invigilator will let you know if your interview is being observed. The observer will either be an external Service User Representative or a senior member of the School staff.
The invigilator will ask the observer to introduce themselves to you and then the observer will turn off their camera and microphone and will not take any further active part in your interview.
Starting the interview
Once these checks have been undertaken, the invigilator will advise you when the assessors are invited to join the assessment room for the interview to begin. The invigilator will confirm the assessors have successfully entered the room and then turn off their camera and microphone.
text
During the interview
The invigilator will keep a record of the timings and will let the assessors know when to commence and conclude the 45-minute interview. During the interview the invigilator will stay in the room with their camera and audio off.
If you are retaking your IACC and your resubmission addresses one or two failed sections, then the interview may naturally conclude before the 45-minute time limit. We still ask that you and the assessors stay in the room. The assessors will sit in silence during this time and may make notes. It offers you the opportunity to make further statements or contributions in support of you submission should you wish.
At the end of the 45 minutes the invigilator will inform the lead assessor that the time has expired and ask them to end the interview. The assessors and any observer will leave the room at this time.
Once the interview has concluded the invigilator will let you know when you are free to leave.
text
Your virtual post-assessment debrief
The invigilator will confirm when your assessment has ended and at this point you will be informed that you can leave the assessment.
You will be sent an evaluation survey after your assessment asking about the technical and administrative arrangements that will give you an opportunity to feedback on your experience. We encourage you to complete this as this helps with future planning of virtual assessments.
If, however there is anything you feel you wish to share ahead of receiving the survey about your experience of your virtual assessment, including unexpected incidents or complaints, then you can do so by emailing us at nshcs.assessment@hee.nhs.uk within two working days.
text