text
Check the opening and closing dates
Make sure you are aware of the opening and closing dates for all important stages of the application process e.g. application window, situational judgement test window etc. Click this link for key dates and deadlines for all stages of the recruitment process. There will be additional opening and closing dates for the Situational Judgment Test, which will be separate to the application window. Please continue to check the website for most recent updates as these may be subject to change throughout the application process.
text
Oriel, the online application portal
We recommend that you use Google Chrome to access Oriel and do not have Oriel open in multiple tabs, within one web browser, as this may cause accidental data changes to be made. Minimum browser requirements are available below.
nhs/expander
Minimum browser requirements for Oriel

| | |
| --- | --- |
| Browser | Version |
| Blackberry | >=6 |
| Apple Safari | >=7 |
| Google Chrome | >=30 |
| Microsoft Internet Explorer | 9, 10, 11 |
| Microsoft Internet Explorer mobile | 11 |
| Microsoft Edge | all |
| Mozilla Firefox | 24-26, >=27 |
text
Register on Oriel
You can register on Oriel as soon as you wish but you will not be able to apply until the application window for the vacancy opens. Click on 'Register' to create a user account. Then select the option 'Register to apply to scientist training programmes' and click continue. The personal information you provide will be used to auto populate some parts of the application.
In the employment history section Oriel requires you to enter an end date for your current employment. If you are in current employment and will need to leave your job to join the programme, enter the date 31 August 2022.
We use direct messaging in Oriel to contact you about applications in progress. Regularly check your Oriel account to stay informed. We may also use the email address supplied to us, but your main source of information throughout will be Oriel.
text
Search for a vacancy
Once registered login to your Oriel account and click on the vacancies tab. You can search for a vacancy using the name of the programme you would like to apply to. Make sure you select the correct post type as there will be two to choose from:
direct entry posts – 'healthcare science'
in-service entry posts – 'healthcare science in service'
Once you have found the correct vacancy select 'Apply'.
Direct entry applicants do not require a code for their application and cannot apply for the in-service vacancies.
In-service applicants will be sent a code from their employer which will be needed to complete the application form. Only applicants already working in the NHS, whose been nominated by their employer with confirmation of a funded post can apply to this vacancy. If you are an in-service applicant, you can also apply for a direct entry vacancy. However, if successful in getting a direct entry post, you would have to resign from your current job.
text
The application form
You can only make one application per vacancy. If you try to submit more than one application for a single vacancy, you will be removed from the recruitment process. Any false declarations will invalidate your application.
The application form has initial screening questions. You have to meet the minimum eligibility criteria in order to be able to proceed with the application. You must provide personal, academic, work experience, general employment and equality and diversity data. You may have already provided some of this data when completing the full registration process, and this will auto-populate your application form.
Supporting information
Part of the application will be your supporting information where you will need to demonstrate how your skills and experience meet the person specification for the programme. This section of the form along with the education section will be viewable by shortlisters.
Direct entry applicants will select one chosen speciality as part of the initial application form; this is the specialism/theme you would like to train in. This will be called the 'Preferences' page of the application form. To select and save your preference, you will need to select your chosen preference from the 'not wanted column' and drag and drop it into the 'wanted column'. You will then need to tick to confirm you are happy with your chosen specialty before selecting save. Further guidance can be found within the Oriel resource bank.
You can save and return to your application as many times as you like, before finally submitting it.
Fitness to practise questions
The fitness to practise questions in the application form cover things such as criminal convictions. If you answer 'yes' to any of these questions, you are required to email further information to hcsapplicants@hee.nhs.uk. We must receive this no later than the closing date of the vacancy. Please mark your email as 'confidential'. If you are successful at the interviews, the information you have provided will be considered by a panel. They will decide whether the information you have provided makes you unsuitable for the programme.
Applicants with disabilities
Health Education England operates under the Disability Confidence scheme to ensure applicants with disabilities are not discriminated against in any of its recruitment processes. Click this link to read our Disability Confidence policy.
Reasonable adjustment requests
If you are eligible to receive extra time to complete the test as a 'reasonable adjustment' under disability legislation, you will need to indicate this on the reasonable adjustments section of the application form and upload evidence before submitting. Your evidence should consist of one of the following;
a Cognitive Diagnostic Report confirming your learning disability
documentation from a registered healthcare professional confirming your requirement; this can be from a doctor, physiotherapist, optician or psychologist or similar and should be on headed paper and signed by the practitioner
Your request will be reviewed and whether the additional time has been approved or not will be communicated through Oriel. Do not start the situational judgement test until you can see if your request has been approved or rejected.
If you need to contact us about a reasonable adjustment, please email hcsapplicants@hee.nhs.uk.
text
Additional information for international applicants
International qualifications
If you hold an international qualification and get through to the interview stage, you will need to provide a UK ENIC Statement of Comparability. Visit the UK ENIC website for further information on gaining a Statement of Comparability.
Check you are eligible to apply
Before you start your application visit the UK Visas and Immigration Service  to check whether or not you are eligible to apply. Make sure that you have established your right to work in the UK for all three years of the programme and this must be in place before you start.
If you require a Skilled Worker visa to work and train in the UK as a healthcare scientist visit the Home Office website for the latest guidance. Should you be successful and receive an offer, you must meet the minimum of 70 points under the new Points Based system.
EU applicants
Successful EU Citizens will either need to provide evidence of pre-settled or settled status in the UK or another immigration category (including the Skilled Worker route mentioned above) throughout employment checks in order to remain eligible.
text
The situational judgement test (SJT)
All applicants that have submitted an application must complete the situational judgment test during the test window. This window will not open until after the STP application deadline. Failure to complete the test before the deadline date will result in your application being rejected. Click this link for opening and closing dates for the SJT.  Information and guidance is available about application longlisting and the SJT.
You will receive your account creation details, and the link to the test directly via email. This will be sent to the email address used to create your Oriel account. Please ensure to check all junk folders before the test window. If you do not receive this by 2 working days prior to the test, please email hcsapplicants@hee.nhs.uk.
You only have one opportunity to take the situational judgement test. Before you do so, it is your responsibility to read the guidance and frequently asked questions and to read the instructions at the start of the test.
To complete the test:
make sure you are somewhere quiet and free from interruption
check the technical requirements for the test available on the test platform and the School website
use a desktop PC or laptop to complete the online test and ensure you have a stable internet connection
close all other browser tabs, windows and applications before you begin
when answering any question, do not click the 'back' button or refresh the page
make sure that the test says ' You have now completed the examination' before you log out of the system
You will not get the result of your SJT on completion. The results are processed at the longlisting stage of your STP application. There is a minimum threshold for the SJT, if you do not meet this then your application will not proceed any further and your status will change on Oriel to longlist fail. If you pass the test, your application will go forward to shortlisting stage. This does not guarantee you an allocation to interview.
It is imperative that applicants complete their application form and situational judgment test in a timely manner. The School cannot guarantee all queries will be answered during the last 48 hours of the application and online test windows.
Technical difficulties
If you experience technical difficulties during the situational judgment test there is technical support information on the Pearson Vue landing page. If this support does not resolve the issue please notify us at hcsapplicants@hee.nhs.uk with evidence (for example, a screenshot). There is no technical cover available at weekends or outside office hours.
text
Taking the SJT from outside the UK
The SJT provider, Pearson Vue, is a US based business, and as such is not allowed to do business in OFAC-sanctioned countries, which include:
Cuba
Iran
North Korea
Sudan
Syrian Arab Republic (Syria)
The Sevastopol/Crimea region of Ukraine
If a candidate's email address is from a sanctioned country, that candidate will be unable to take the SJT. A full list of sanctions, programmes and country information can be found on the US Department of Treasury website.
If you are currently residing in one of the sanctioned countries, please contact hcsapplicants@hee.nhs.uk for further information.
text
Shortlisting
If you pass the situational judgement test, your application goes through a shortlisting panel. They will score it against each of the criteria in the person specification.
The panel members do not have access to your:
equal opportunities data
fitness to practice data
employment history sections of the application form
personal data
Applications are then ranked in order of their total score. In the event of tied scores, an algorithm is applied. This may include scores from the situational judgment test. The highest scoring applicants will then go through to interview. Click this link for details of the shortlist release date.
There will be one allocation to interview per post. There is also a reserve list that is drawn from for further interviews when required.
Shortlisting outcomes
When shortlisting is complete, your status on Oriel will change to one of the following:
interview (shortlisted) – you will be invited to interview if you rank high enough to be matched to one of your chosen locations, if you are not matched to a location initially you will be kept on the reserve list
shortlisted reserve – you may be invited to interview, possibly at short notice, if a candidate in your chosen specialty withdraws or if an applicant allocated to a post is unsuccessful at interview
shortlist unsuccessful – your application will not progress any further
text
Choosing employers and locations (sub-preferences)
If you are successful in shortlisting, you will need to choose where in the country you want to train. This is referred to as your 'sub-preference' choices. You will only be able to select your sub-preference within the allocated window. Click this link for details of the sub-preference window. Similarly to the preferences selection, this will be done using the drag and drop motion. You will find the sub-preference option under the 'Applications' tab in Oriel. Once you have selected your choice(s) by sliding them to the wanted column, click save. You can come back to this screen and edit your selection up until the sub-preference deadline.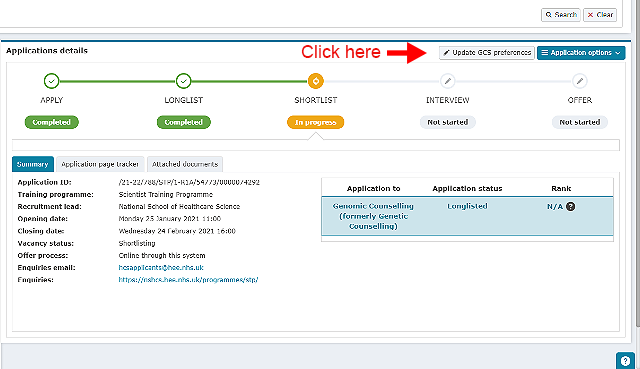 Image showing the location of the sub-preferences option in the applications tab in Oriel
Think carefully when choosing your sub-preferences as this is where you will be living and working for the next three years. Complete some research on what it is like to live in the area; do you want to be based in a city or a more rural location. Communicate with STP trainees and networks via social media to see what is it like to live, work and study in that region. Does the location contain the facilities you need? Consider the time and distance from your support network.
The advertised training post locations and specialisms may change throughout the recruitment process, so keep checking the website for the latest information. We will assume that you will accept, if offered, a post with any of the employers you have selected in your sub preferences.
text
Interview allocations and interviews
All applications will be processed to interview status. This does not mean you have successfully received an offer for interview. This will allow the system to process which applications have ranked highly enough at shortlisting, to be matched to an individual employer interview based on sub-preferences choices against posts/ locations available.
Applicants will be allocated for interview offers/ allocations based on:
shortlisting score – in the event of two applicants being ranked at the same level, tiebreakers are applied based on individual application section scores and your score in the online Situational Judgement Test
preference for location/employer
Applicants who have been matched to an employer will receive an offer/ allocation to interview. This term will not qualify as an offer of a training post. You will be expected to score the required interview threshold to receive the successful offer.
Applicants who have not been matched to an employer will remain as 'interview' status. This means your application is in the interview reserve pool. Interview reserves will only be contacted should an interview become available and will be offered to the next highest ranked applicant for the specified interview location. If no interviews become available, your status will remain unchanged.
Notifications on Oriel
Once applicants have been allocated to posts, notification will be released on Oriel. If you have been allocated a post, you will see the employer and location details. You will have 48 hours to accept or reject the allocation.
You will receive only one allocation. You do not have an option to hold the allocation while you wait for a preferred one: only one post will be available to you. If this expires or you reject it, you will not be allocated another post.  This will be the end of your application for this year.
If you accept an allocation, please wait for the employer to contact you to arrange a specified date and time for your interview. Interviews are conducted according to strict guidelines to ensure consistency. You will only have one opportunity of an interview, with a single employer. Interviews will be conducted online through a video-conferencing platform. Read the guidance on the STP interview.
Interview outcome and allocation process
After your interview you will be contacted by the School and informed of the outcome. If you are successful, your details will be sent to the employer. This could take up to 4 weeks. They will then start their employment processes.
Subject to successful pre-employment checks, you will be an employee of the training centre, and you will stay in their employment for the full three years of training. Once your details are sent to your new employer, the School's involvement ceases.
If you are unsuccessful, you will leave the recruitment process.  You will not join the reserve interview list and there will be no opportunity for a further interview with a different employer.
Interview feedback
You can obtain interview feedback free of charge by emailing hcsapplicants@hee.nhs.uk and attaching photographic ID. Feedback consists of interview question responses and any additional comments.
You will receive your feedback within approximately one month. However, we cannot start to process requests until all allocations have been completed.
Feedback on the recruitment process
You will be invited to participate in a national feedback survey. Feedback received from previous surveys has resulted in process improvements, so please help us by completing the survey.
nhs/expander
Contacts and useful information

For general queries regarding the recruitment process, look at the 'frequently asked questions' and the information available on our website. If you do not find the answer to your query, please email hcsapplicants@hee.nhs.uk

STP curricula is available in the Curriculum Library.

Visit the Health Careers website for background information on the STP, including career and specialism information.