text
The Quality and Standards Committee provides governance and oversight to the School to ensure the quality of the Scientist Training Programme (STP). Thus enabling those who successfully complete the programme to fulfil the requirements of the Health and Care Professions Council (HCPC) to register as a Clinical Scientist.
Led by Mr. Grahame Pope as Chair, committee members will serve a 2 to 3 year term and meet quarterly to consider matters of governance and provide strategic support to the School Senior Management Team.
assets
Meet the Quality Standards Committee (QSC) members
Committee Chair
Grahame Pope
Grahame is a registered Physiotherapist, having qualified in 1985. He is an experienced educator who has worked in Higher Education for 30 years and was previously Head of Physiotherapy and Rehabilitation Sciences Education at the University of Nottingham.
During his career, he has Chaired the Chartered Society of Physiotherapy (CSP) and the Allied Health Professions Forum (AHPF) and been involved in a number of international health education organisations.
He served 8 years as an appointed member of the General Chiropractic Council (GCC) and Chair of the GCC Education Committee, and currently acts as an Education Visitor.
Previously Grahame has been engaged in course approval and recognition processes for a number of organisations including the GCC, the General Pharmaceutical Council, the World Confederation of Physiotherapy, and independently for a number of Universities.
assets
Higher Education Institute representatives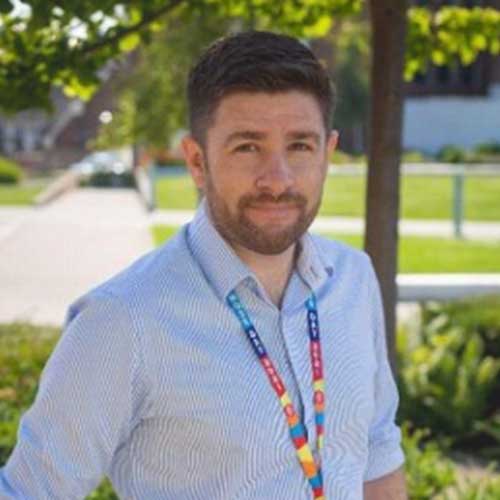 Christopher Cox
Christopher is a Clinical Scientist in Cardiac Science and a Senior Lecturer currently based at the University of Sunderland.
Chris began his training as a cardiac physiologist in 2003 and since then has trained in both echocardiography and cardiac rhythm management, working in several hospitals across the North East of England. In 2010 Chris undertook an MA in Healthcare Ethics and Law where he investigated the deactivation of implantable cardiac devices, particularly focusing on the similarities and differences between pacemakers and ICDs when considering deactivation.
Chris transitioned to a teaching role in 2015 and as a Senior Fellow of the HEA now acts as the programme leader to three undergraduate healthcare science related programmes. Chris continues to teach trainee Healthcare Science Practitioners about a range of topics including cardiac and respiratory pathophysiology, ECG interpretation, cardiac rhythm management and non-invasive imaging. Chris has also been involved in the development of new programmes in particular a healthcare science apprenticeship route.
Chris continues to be active and take regular part in clinics within Cardiac Physiology and through links with County Durham and Darlington NHS Trust.
Christopher Eggett
Dr Christopher Eggett is the Programme Director for the MSc Clinical Science (Physiological Sciences) and the PGCert Clinical Echocardiography course at Newcastle University. He joined the university in 2013 from the NHS where he has 30 years experience as a cardiac scientist.
As well as leading two NHS commissioned courses, Chris is the Director of Postgraduate Taught Programmes within the Faculty of Medical Sciences Graduate School. He is a Reader in Healthcare Science Education and holds an honorary contract as a Cardiac Physiologist with Newcastle Hospitals NHS Trust.
Chris has been involved with many aspects of healthcare science training. He has been lead editor for the HSST Cardiac Science curriculum and Cardiovascular, Respiratory & Sleep Sciences PTP curriculum (2016).
assets
Service user and carer representatives
Maggie Morgan Cooke
My name is Maggie Morgan Cooke and I live in Leicestershire. I am a retired registered nurse who has worked as part of the NHS for over 38 years.
I am a cancer survivor and following a five-year journey of treatment at wonderful hospitals across the Midlands, I saw first-hand the importance of science to ensure I received the best treatment to improve my chances of survival. Tests and diagnostics were vital for my treatment, as it is for many people receiving treatment from the NHS.
I am also a carer for my 90-year-old mum who is frail and has dementia. Working with health and social care services so far, we have managed to keep mum well supported at home, which is her express wish.
That is why I am so delighted to be part of this Committee to contribute to upholding standards and ensuring participants receive high quality training informed by giving insights from a patient or carer experience.
Amran Hussain
Amran has extensive senior executive and non-executive board level leadership experience within complex organisations in the political, education and healthcare sector. He is an experienced healthcare director having worked in most types of NHS organisations providing high level and board level strategic and operational support, to design, deliver and manage high standard patient centred care which is respectful of and responsive to individual patient preferences, needs, and values, and ensuring that patient values guide all clinical commissioning decisions.
He has a sincere passion for securing high quality care for patients and advocating for collaborative arrangements, integrated care, community care, patient centred care and self-care initiatives.
Amran also holds several commitments in the third sector as well as governmental and non-governmental bodies, mostly aligned to the justice system, the education and healthcare sector. Amran's academic background is in medical sciences, healthcare management and politics. He studied at world leading institutions which include Harvard, Oxford, Durham, Mumbai, East China, London, Drexel and was a recipient of the prestigious Fulbright Scholarship. Amran's interests and hobbies include swimming, countryside pursuits and all things classical.
assets
Clinical scientist representatives
Rebecca Haines, Bioinformatic Sciences representative
Rebecca is a Clinical Scientist in the Bioinformatics team at the Viapath Genomics Laboratories, Guys and St Thomas' NHS Foundation Trust, London, and is also currently an HSST trainee.
Rebecca previously completed the STP in Clinical Bioinformatics Genomics at the East Midlands Regional Molecular Genetics Service in Nottingham. She worked there as a clinical scientist with a main focus on managing and interpreting results from the 100,000 Genomics Project.
Rebecca has worked with the School as a Clinical Bioinformatics Genomics Lead Station Writer for the STP final examination and has been involved in delivering the final examination since 2017. Having experienced the STP from several different perspectives, she has a good understanding of the program and the needs and expectations of trainees, training departments and the School.
Rebecca is looking forward to continuing to support the development and delivery of the STP through the Quality Standards Committee.
Victoria Thomas, Life Sciences representative
Victoria is a Senior Embryologist and Deputy Laboratory Manager at Wales Fertility Institute (WFI), South Wales.
Victoria started her career in Embryology in 2006 in London where she trained and qualified as a Clinical Scientist.  In 2013 she moved to South Wales and has been the Deputy Laboratory Manager at WFI since its opening.  Victoria is the training officer for the WFI Scientific team, and she is involved locally and nationally with training Healthcare Scientists across the UK.  She is passionate about inspiring reproductive scientists of the future.
She is embryo biopsy qualified (for pre implantation genetic testing), State Registered with the Health and Care Professionals Council and a Diplomate member of the Royal Collage of Pathologists.  She studied and completed her Masters in Professional Science while working at WFI and has close links with the research team in Swansea University where she is an Honorary Senior Clinical Lecturer.
assets
Learner representatives
Rebecca Lo
I am currently a second-year clinical biochemistry STP student and I am honored to have the opportunity to represent fellow trainees. I studied Molecular Biology and Genetics at the University of East Anglia and enjoyed it so much I stayed on to carry out doctorate training in Molecular Microbiology. Although carrying out translational research, I wished to see tangible patient benefits and therefore applied to the STP. The last two years has been a steep learning curve but have relished the challenge.
High standards and good quality are important in any field, however it is foundational to being able to provide the best possible care for patients and is embedded in every practice. I see the position of learner representative as a means to advocate for my peer group and future STP trainees across the four disciplines, to ensure training is maintained at the highest quality possible and is fit for purpose in the constantly changing healthcare landscape. I hope that by having an influence on STP training, I can indirectly have a positive impact on the provision of good clinical care.
In non-COVID times I love to travel. Now that I am home a lot, I have taken up watercolour painting but love to destress by playing a few smashes in badminton.