text
What will I do on the programme?
The programmes involves broad scientific training in the first two years with an increased focus on a chosen specialism during year three. Whilst on the programme you will complete a BSc (Hons) in Healthcare Science. We accredit the degrees and additionally, Life Sciences is approved by the Health and Care Professions Council (HCPC) and accredited by the Institute of Biomedical Sciences.
assets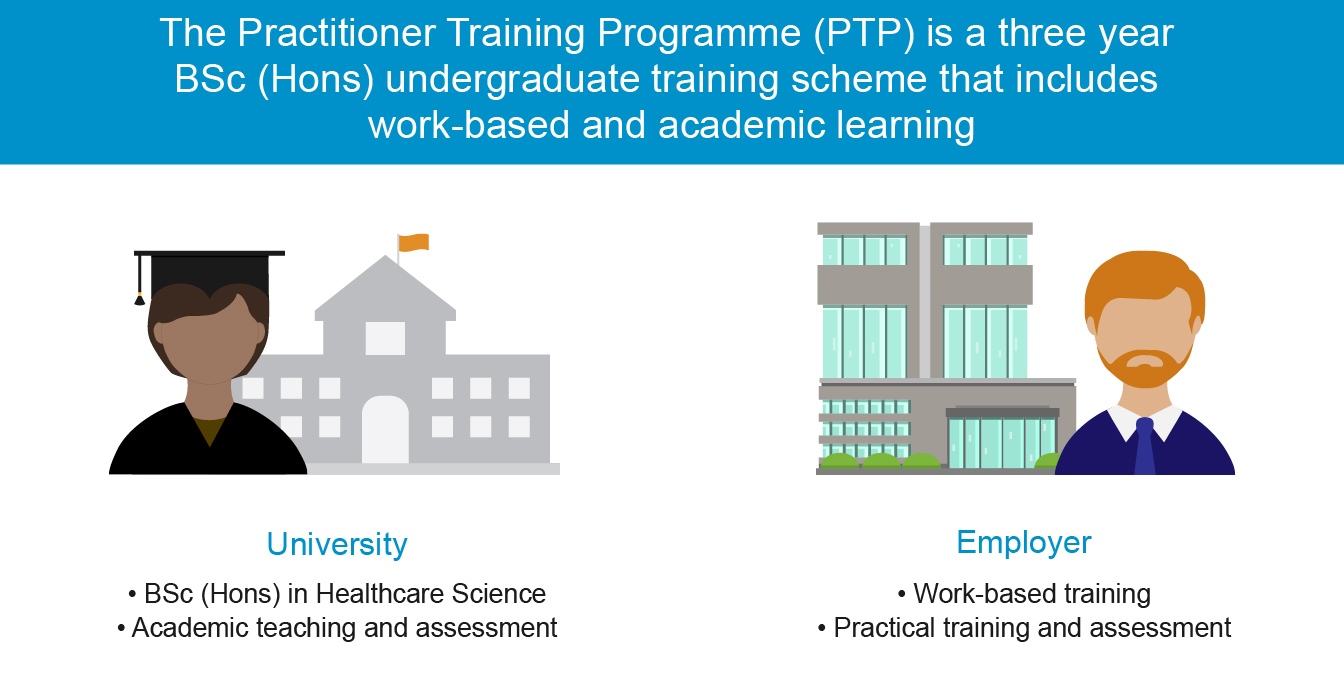 text
What subjects are available on the Practitioner Training Programme?
Cardiac, Critical Care, Vascular, Respiratory and Sleep Sciences
Cardiac Physiology
Respiratory and Sleep Physiology
Clinical Engineering
Medical Engineering
Radiation Engineering
Renal Technology
Rehabilitation Engineering
Life Sciences
Blood Sciences
Cellular Sciences
Genetics Sciences
Infection Sciences
Medical Physics
Radiotherapy Physics
Radiation Physics
Nuclear Medicine
Neurosensory Sciences
Audiology
Neurophysiology
Ophthalmic and Vision Science
text
What am I eligible for after graduation?
Once you have graduated from the programme you will be a qualified Healthcare Science Practitioner and you will be eligible to apply for professional registration:
Physiological and physical science graduates will be eligible to apply for Professional Standards Authority (PSA) Accredited Voluntary Registration via the Academy for Healthcare Science (AHCS). Additionally, some HEI's are accredited by the Registration Council for Clinical Physiologists (RCCP), where you will be eligible for voluntary registration.
Life science graduates as well as being eligible to apply for voluntary AHCS registration (as above), will be eligible to apply for statutory registration with the Health and Care Professions Council (HCPC) as Biomedical Scientists.
By successfully completing an accredited healthcare science degree, you will have demonstrated the knowledge, skills and behaviours in applied scientific techniques within a discipline or related disciplines, to work in a range of healthcare settings as a Healthcare Science Practitioner (or Biomedical Scientist). You will have a clearly defined role in the delivery of investigations and interventions for patients and technical reporting of quality assured tests on patients, patient samples and medical equipment. In a number of disciplines Healthcare Science Practitioners provide therapeutic interventions, some of which may be specialist.
resources