text
For each of the five Good Scientific Practice (GSP) domains:
Choose a coherent selection of evidence that you feel gives a good example of you meeting the Standards of Proficiency for this domain. The evidence should be selected from a coherent set of activities. This is all about providing a good, representative example of your work. It is not about uploading a set of disparate, unconnected pieces of evidence.
Create a new submission in OneFile. When you are asked to 'Set Criteria', choose the appropriate GSP domain from within the 'HSST IAPS showcase' module. (Figure 1)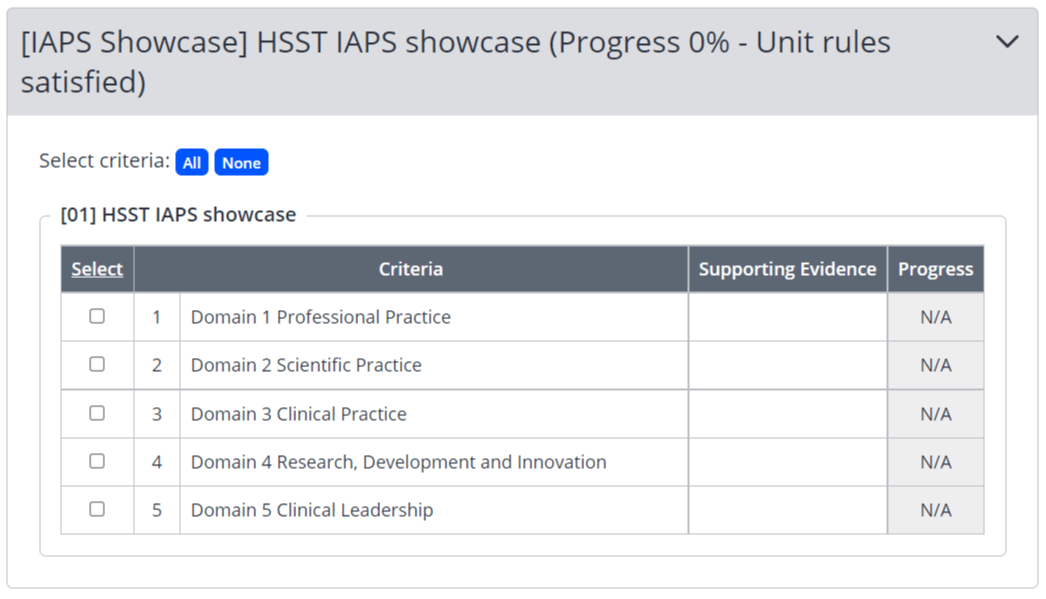 Within the 'Evidence' free text box you should provide a narrative that summarises your evidence, places it in context and connects it together. This will make it easier for your IAPS assessors to understand your work and conduct the professional discussion with you about each of the GSP domains.
Attach your selected evidence to your submission.
Sign the submission and submit it to your supervisor for sign off (by clicking 'Save & Quit'). Your supervisor's sign off should be a formality as you should be re-presenting and summarising evidence that is already in your e-portfolio with this submission.