Your training support and how will can help you
Trainees or training departments who recognise there are challenges impacting on their ability to complete the training, or where there are significant changes to the training required, should contact the School as soon as possible to seek further help and advice by emailing nshcs@hee.nhs.uk.
All communications will be treated confidentially. The trainees permission will be sought before sharing any details with any other education provider. We will only do that if it is in the best interests in offering support or a solution, for the particular issue or issues being experienced.
We will register the trainee with a support service and we will remain in contact periodically, until the issue/s are resolved or the trainee completes the programme.
Our responsibilities to you
We are responsible for assuring and supporting the education of healthcare scientists undertaking the STP and HSST training programmes. We have a key role in providing support and guidance to trainees and training departments, to ensure that trainees are able to progress and are fit to practise at the end of the training programme.
We have and will continue to develop, a number of policies, processes and guidance for trainees and training departments in order to provide a consistent, equitable and accessible framework for managing training.
We have a unique role in coordinating with all of the education providers, in order to determine the best course of action to help trainees.
What policies are available to help me if I need to make a change?
The two main policies that may be able to help you if you are experiencing problems are:
Exceptional Extenuating Circumstances policy
Transfer of Training policy
Click below to access the full policy document and accompanying application form.
Exceptional Extenuating Circumstances policy and application form
Transfer of Training policy and application form
In which areas does the School provide support for trainees?
We provide support via the following areas:
Recruitment to the programmes
Accreditation of training providers
Training management and clinical performance
Curriculum management and review
OneFile – the online e-portfolio service
Midterm review of progression (MRP)
Annual review of progression (ARP)
Final assessment for trainees (formerly known as the OSFAs)
Independent Assessment of Professional Skills (IAPS)
Completion of training
Issues with training delivery/quality
Transfer of training
Extensions to training
Pastoral support:

Health and well-being
Conduct/capability
Significant life events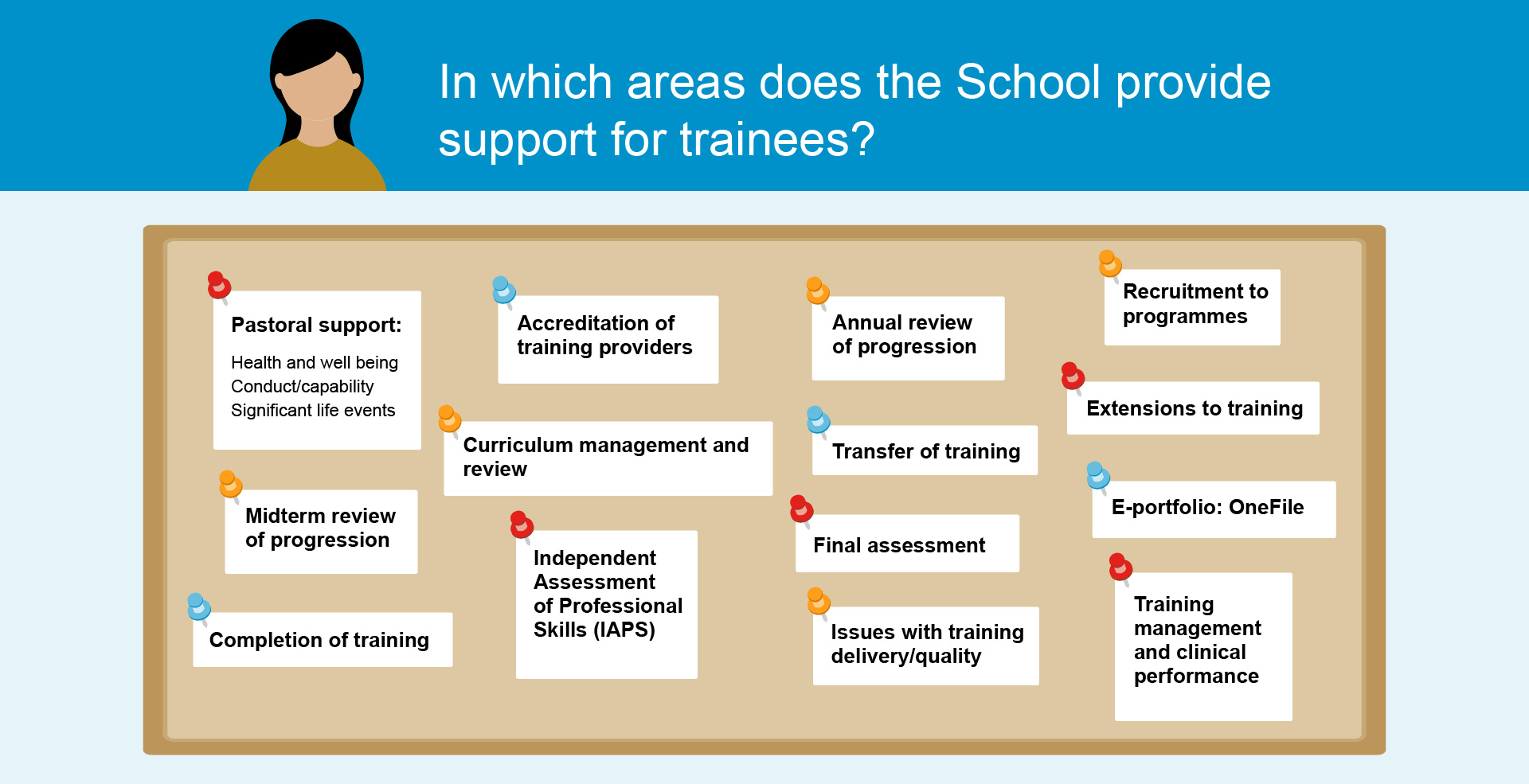 What are the roles and responsibilities of the School?
We have a number of roles and responsibilities, that we will perform during your time on the programme:
Assessment – Including provision and management of the e-portfolio as well as the delivery of the final exit assessment.
Review of progression
Completion of training – Including guidance on completion requirements and issuing the certificate of completion.
Accreditation – Assessment and approval of the quality of training provision from both work based and academic education providers.
Curriculum management and review
Scientific advice – Via the School's scientists and Training Programme Directors.
Education of the educators – Via the Train the Trainer programme and e-learning programmes
Communications on healthcare science matters – Via Berne's Blog, twitter, School's newsletter and website. Also through setting up networks with trainees and education providers.
Research – On healthcare science education, impact of the training programmes and a wide range of other areas to be determined.